With the debut of new models like the Grecale SUV, Maserati aims to recapture its Italian luxury flair. But does the 2024 interior live up to expectations? After an early preview, here's an honest take on Maserati's newest cabins.
First Impressions: Style for Days
Open the door, and the 2024 Maserati interior makes a strong first impression with its sporty, retro-futuristic style. The look blends classic analogue details with high-tech digital displays for a cool and contemporary vibe:
Display-focused dash – A large digital instrument cluster and central touchscreen are integrated under a cowl-like visor.
Metal and leather – Premium materials like aluminum trim and stitched leather abound, accentuated by ambient lighting.
Analogue touches – A unique analogue clock and metal switchgear on the transmission tunnel add vintage flair.
The interiors feel both purposeful and stylish – perfect for a high-end Italian grand tourer.
Quality Materials Win Points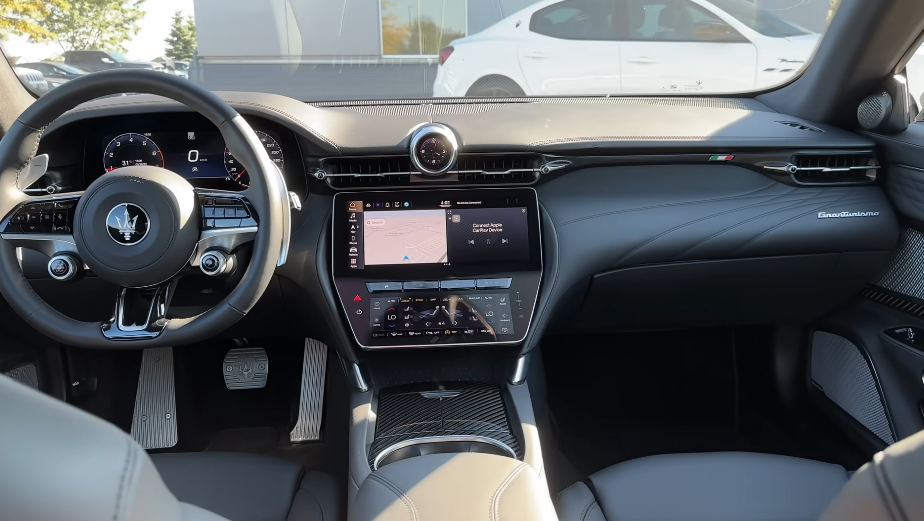 Maserati has notably improved its material quality versus past models. Soft leather, genuine metal accents, and even silk upholstery on higher trims give the cabin a legitimately luxurious feel.
Open pore wood trim and piano black surfaces add tasteful accents. Details like knurled metal switches feel both retro and high-tech. It's a welcome step up from the plasticky interiors of the past.
Let's Discuss the Ergonomics…
While definitely stylish, form seems to take priority over function in some areas. The most glaring example is the oddly angled center touchscreen.
The widescreen display itself is crisp and responsive. But it cants away from the driver at an odd angle. This makes menus and maps harder to view than they should be.
The glossy piano black surfaces also show unsightly fingerprints. And some of the "shortcut" buttons take extra steps that distract from driving.
Overall, the aesthetic design prevails over simplicity and ease of use.
Tech Features Impress and Disappoint
On the plus side, Maserati offers features like wireless Apple CarPlay/Android Auto, integrated navigation, multi-zone climate control, and premium audio systems. Active driving aids like parking assist, night vision, and adaptive cruise control are also available.
However, some expected tech features are absent or cost extra. Things like wireless phone charging, ventilated seats, and head-up display should come standard on luxury vehicles nowadays. Their omission is an odd oversight for the segment.
Cabin Space Shines… Mostly
Occupants enjoy ample space in both the front and rear seats, even in the smaller Grecale SUV. Legroom is plentiful, and the seats stay comfortable on longer drives. However, rear headroom is tight due to the sloping roofline in the coupe models.
Trunk space is average for the luxury class, but accomodating overall. Clever little touches like the split rear tailgate on the Grecale give practicality points.
| Model | Passenger Volume | Cargo Volume |
| --- | --- | --- |
| Grecale SUV | TBA | TBA |
| Ghibli Sedan | TBA | 17.7 cu-ft |
| MC20 Coupe | TBA | 5.3 cu-ft |
The Verdict? Cool Style, But Work Needed
The latest Maserati interiors are undeniably sensational in their aesthetics. There is a sense of occasion when getting behind the wheel.
However, the overemphasis on form over function results in some ergonomic missteps. The lack of some expected tech features is also disappointing.
There is great potential here, but Maserati still needs to refine things to compete with the best luxury cabins from BMW, Mercedes-Benz, and others. The style is on point, but the substance needs work.
With that said, improving interior ergonomics is likely easier than reinventing timeless Italian design flair. Maserati seems to have nailed the harder part. With refinement, their interiors could move from stylish statements to world-class luxury.